May 3, 2019 / Conference: Seoul Under Construction: Politics, Memory, and Urbanism in Korea
University of Pennsylvania, PHILADELPHIA, USA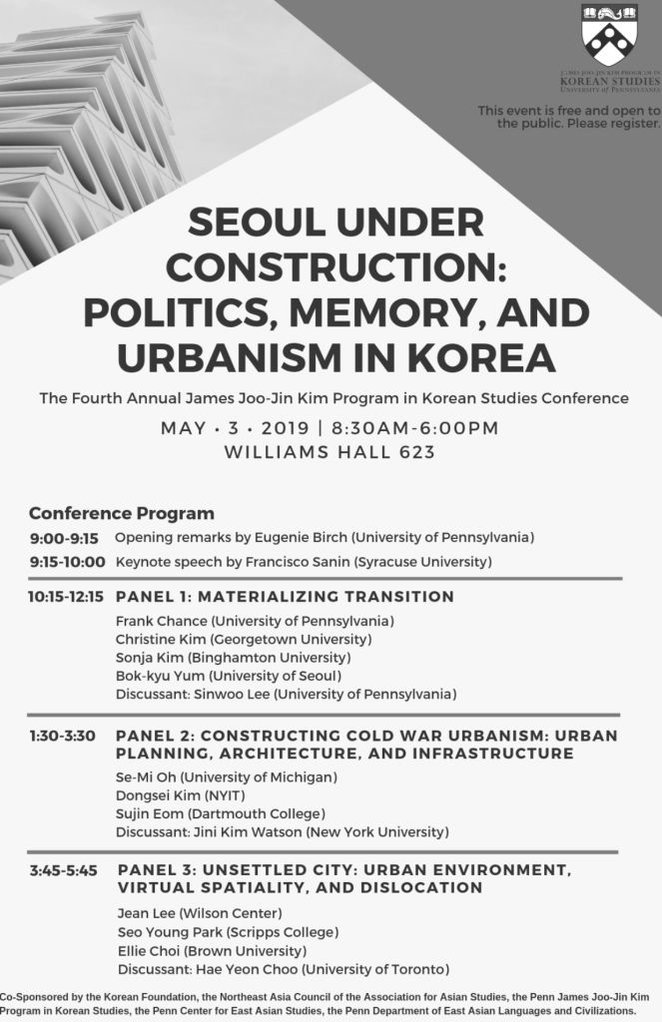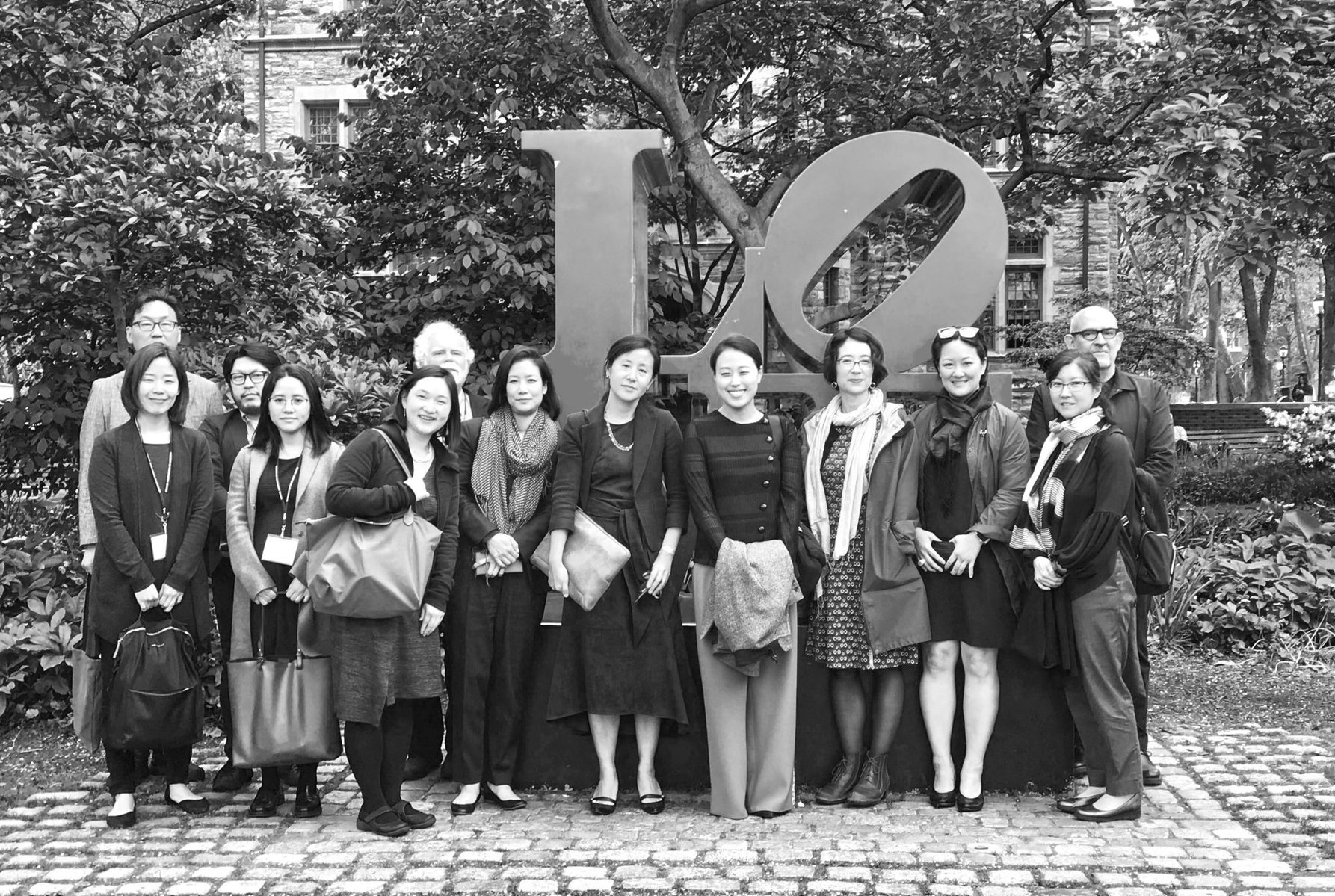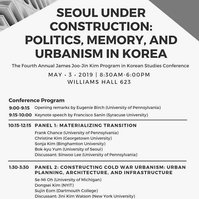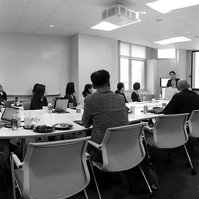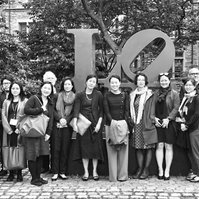 Dongsei Kim presented his research paper, "Constructing Ambivalent Korea(s): Architecture, Urbanism, and Statecraft" in the "Seoul Under Construction: Politics, Memory, and Urbanism in Korea" Conference at the University of Pennsylvania's James Joo-Jin Kim Program in Korean Studies.
Photo credit: Yisoo Choi.

Conference Abstract
Over the last 600 years, Seoul has undergone tremendous transformations. These include multiple transitions from a royal capital of the Confucian Chosŏn state (1394–1897) through a short-lived capital of the Korean Empire (1897–1910) to a colonial city of Japanese Empire (1910–1945). After liberation, while struggling with its colonial memory, the city engaged with Cold War urbanism, highlighted by its proximity to the DMZ. Seoul in the twenty-first century is taking on another transformation, by ranking itself among the world's fast-changing megacities with growing diversities. These transformations did not happen seamlessly. The rapid change was propelled by multiple processes of construction, destruction, and reconstruction that took place in difference paces, involving multiple actors and dissident ideas. As a result, Seoul today is a city of spatial and temporal montages, a place of seemingly contradictions.
This conference explores varied meanings of the construction of Seoul from multiple disciplinary, thematic, and methodological approaches. How has the city of Seoul become what it is today? More specifically, the conference explores how the constant construction, deconstruction, and reconstruction shaped the uneven landscape today; and how individual and collective memories and imagination reflect and recreate the city's unique urbanism. Ultimately, the conference will shed light on Seoul as a temporal and spatial montages and the contradictions and irony it imposes to the understanding of the city.
In order to promote discussions from comparative and interdisciplinary perspectives, the conference brings together 15 speakers from North America, Asia, and Europe, covering a wide range of disciplines such as history, anthropology, geography, architecture, and urban planning. As the first of its kind, the conference aims to create a unique working platform for scholars whose work involves Seoul across temporal and disciplinary boundaries, and to promote Seoul studies as a field of interdisciplinary study in North America.
Participants
Eugenie L. Birch (University of Pennsylvania)
Professor Birch is the Lawrence C. Nussdorf Chair of Urban Research and Education. She teaches courses in global urbanization and the doctoral seminar and serves as chair, Graduate Group in City and Regional Planning , co-director, Penn Institute for Urban Research, co-editor, City in the 21st Century Series, University of Penn Press and co-editor, SSRN Urban Research e-journal. With Penn IUR she recently completed a project "Entreprenuership & Innovation in Connecticut's Higher Education System" for the state of Connecticut.

Frank L. Chance (University of Pennsylvania)
Frank L. Chance is a scholar of early modern Japanese art. Born and raised in the Kansas City area, he received Bachelor's and Master's degrees in Asian art history from the University of Kansas. After five years in Japan studying language, culture, ceramics, and tea he entered the doctoral program in the History of Art at the University of Washington. From 1991 to 1998, Dr. Chance was the Director of Shofuso, a Japanese House and Garden in Fairmount Park, Philadelphia. Dr. Chance has curated exhibitions of Japanese prints at the University of Pennsylvania Museum and Haverford College, and served for three years as the Far Eastern Bibliographer for the Marquand Library of Art and Archaeology at Princeton University.

Ellie Choi (Brown University)
Ellie Yunjung Choi is Visiting Assistant Professor of Korean Media and Culture. Her current research interests include the transnational consumption of Korean media, the Seoul city, cyberspaces, visual culture, and dislocation. She is the author of "The City and the Image: Seoul's Recovery of Its Own Past," The Metropole Series:The Urban History Association (March, 2018) and "Forgotten northerly memories: Yi Kwangsu and his alterities in The Heartless," The Journal of Asian Studies (August 2018), and is currently writing a book-length project, "The Laptop Nation and the Global Consumption of Korea." Her first book project, Space and National Identity: Yi Kwangsu's Vision of Korea during the Japanese Empire, explored the relationships among colonial space, cultural nationalism, and historical identity.

Hae Yeon Choo (University of Toronto)
Hae Yeon Choo is an Associate Professor of Sociology at the University of Toronto, and is a 2018-2019 Deutsche Bank Member of Institute for Advanced Study (Princeton, NJ). She is an author of Decentering Citizenship: Gender, Labor, and Migrant Rights in South Korea (Stanford University Press, 2016), a comparative study of three groups of Filipina women in South Korea: factory workers, wives of South Korean men, and hostesses at American military camptown clubs. Her current research project examines the politics of land ownership in contemporary South Korea, delving into macro-level political contestations over land rights, together with the narratives of people who pursue class mobility through real estate speculation.

Sujin Eom (Dartmouth College)
Sujin Eom's research lies at the intersection of transnational urban history, postcolonial studies, and science and technology studies: 1) the mobility of urban form and its role in the production of exclusion; 2) the (post)colonial regime of citizenship and property rights; and 3) the politics of technology and expertise in statecraft. ​Eom's current research project investigates the transpacific circulation of urban policies and building technologies in the mid-twentieth century, with an emphasis on urban infrastructure.

Christine Kim (Georgetown University)
Christine Kim is an historian of modern Korea currently completing a manuscript on Korea's monarchical institution in the twentieth century. I have been teaching at Georgetown since 2003.

Dongsei Kim (New York Institute of Technology)
Dongsei Kim is an architect, urbanist, and educator. His current research, focusing on architecture and urbanism's relationship to nation-state borders across multiple scales, examines the notions of "inclusion" and "exclusion" and how "us" and 'them' are defined through various spatial practices. His research on the Korean Demilitarized Zone (DMZ) has been internationally recognized through multiple exhibitions and publications.

Sonja M. Kim (Binghamton University)
Sonja Kim is an Associate Professor of Asian and Asian American Studies at Binghamton University where she teaches Korean and East Asian history. Her first monograph Imperatives of Care: Women and Medicine in Colonial Korea (University of Hawai'i Press, 2019) examines medical professionalization and women's experiences in health practices during the late nineteenth and early twentieth century. Her current research traces a genealogy of ethics in medical practices and institutions and management of the urban poor from the late Chosŏn to the Korean War.

Jean Lee (Wilson Center)
Jean H. Lee is a Pulitzer-nominated veteran foreign correspondent and expert on North Korea. Lee led the Associated Press news agency's coverage of the Korean Peninsula as bureau chief from 2008 to 2013. In 2011, she became the first American reporter granted extensive access on the ground in North Korea, and in January 2012 opened AP's Pyongyang bureau, the only Western text/photo news bureau based in the North Korean capital. She has made dozens of extended reporting trips to North Korea, visiting farms, factories, schools, military academies and homes in the course of her exclusive reporting across the country.

Sinwoo Lee (University of Pennsylvania)
Sinwoo Lee is a historian of Modern Korea and East Asia whose research interests lie in the fields of urban history, border and boundary studies, and memory studies. Lee is currently working on a book manuscript titled City Beyond the Walls: Urban Politics and the Making of Modern Seoul, 1864-1914, which explores Seoul's transition into a modern city from the late nineteenth to early twentieth century, by looking at varied contestations over its city walls, both physical and symbolic boundaries. This book highlights an understudied aspect of Seoul as a city of mixed residence and extraterritoriality, and how the city and its walls were conceptualized and negotiated when Korea strove to remake the city into a national capital.

Se-Mi Oh (University of Michigan)
Se-mi Oh is a cultural historian of modern Korea. Her research takes on the question of how history interacts with space. She approach spatial practices –whether it is the city, museum and exhibition, language, body, or media — as the writing of history. She read space as language, narrative, and image, and employ interdisciplinary approaches of history, literature, visual/media studies, and urban studies. In her research, she examine the processes of textual formations of space, and show how the telos of history is inscribed in spatial forms.

Seo Young Park (Scripps College)
Seo Young Park is associate Professor of Anthropology at Scripps College and works on gender, labor, and spatial and temporal politics of the cities in South Korea.

Francisco Sanin (Syracuse University)
Francisco Sanin was born and educated in Medellin, Colombia, and is internationally known as an urban designer, noted for his extensive research in the history and theory of urban form. He has taught at Princeton, the Architectural Association School of Architecture in London, Kingston and Greenwich Universities in the UK, and the University of Oregon Oregon School of Architecture and Allied Arts. He has been a visiting professor in schools around the world, including the Korean National University of Arts, Universidad Simon Bolivar in Caracas, UPB in Medellin, Colombia, and Miami University. He was Director of the Syracuse University Architecture program in Florence from 2004 – 2008. Sanin has been appointed co-director of the 2019 Seoul Biennale of Architecture and Urbanism, which will be held for two months beginning in September 2019.

Jini Kim Watson (New York University)
Jini Kim Watson received two undergraduate degrees, in architecture and literature, in Australia, before doing her doctoral study at Duke's Literature Program. Her teaching and research investigate the ways that postcolonial cultural production—literature, film, theoretical writings—have reckoned with ongoing questions of decolonization, national and global imaginaries, uneven development and political modernity. Her book The New Asian City (Minnesota UP, 2011) examined the rise of so-called "Asian Tiger" economies and metropolises through a lens attentive to colonial histories, national imaginaries and Cold War hegemonies.

Bok-kyu Yum (University of Seoul)
Associate Professor in Department of Korean History, University of Seoul, Korea