July 2010 / Competition: Solar Park South International Competition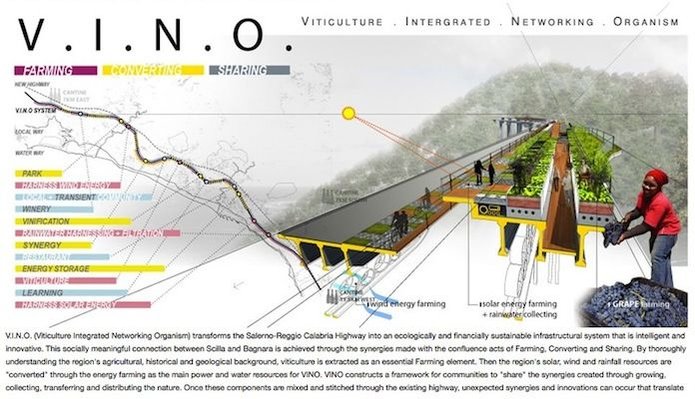 Solar Park South International Competition, Italy
Collaboration work with KJ Kim and Heejoo Shi, NYC, USA. 2010

V.I.N.O. (Viticulture Integrated Networking Organism) transforms the Salerno-Reggio Calabria Highway into an ecologically and financially sustainable infrastructural system that is intelligent and innovative. This socially meaningful connection between Scilla and Bagnara is achieved through the synergies made with the confluence acts of Farming, Converting and Sharing. By thoroughly understanding the region's agricultural, historical and geological background, viticulture is extracted as an essential Farming element. Then the region's solar, wind and rainfall resources are "converted" through the energy farming as the main power and water resources for VINO. VINO constructs a framework for communities to "share" the synergies created through growing, collecting, transferring and distributing the nature. Once these components are mixed and stitched through the existing highway, unexpected synergies and innovations can occur that translate into productive landscapes and new culture.