November 2010 / Competition: The 12th International Garden Festival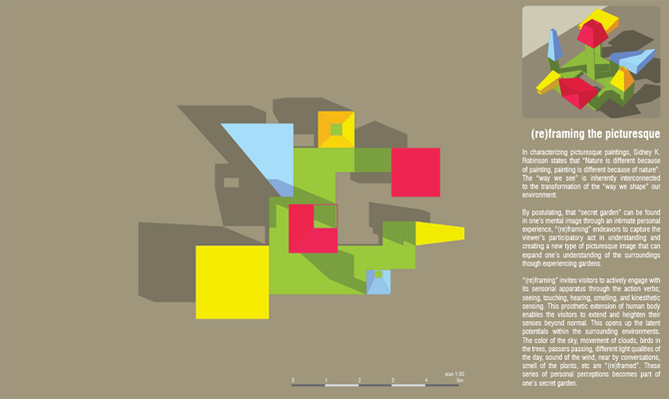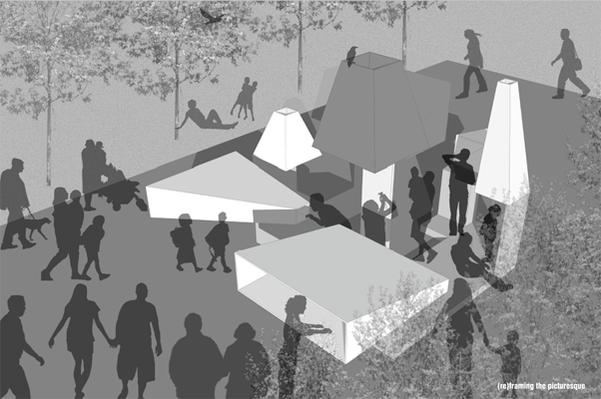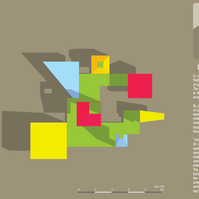 (re)framing the picturesque
The 12th International Garden Festival, Reford Gardens, Quebec, Canada, 2010
In characterizing picturesque paintings, Sidney K. Robinson states that "Nature is different because of painting, painting is different because of nature". The "way we see" is inherently interconnected to the transformation of the "way we shape" our environment.
By postulating, that "secret garden" can be found in one's mental image through an intimate personal experience, "(re)framing" endeavors to capture the viewer's participatory act in understanding and creating a new type of picturesque image that can expand one's understanding of the surroundings though experiencing gardens.
"(re)framing" invites visitors to actively engage with its sensorial apparatus through the action verbs; seeing, touching, hearing, smelling, and kinesthetic sensing. This prosthetic extension of human body enables the visitors to extend and heighten their senses beyond normal. This opens up the latent potentials within the surrounding environments. The color of the sky, movement of clouds, birds in the trees, passers passing, different light qualities of the day, sound of the wind, near by conversations,smell of the plants, etc are "(re)framed". These series of personal perceptions becomes part of one's secret garden.