May 1, 2016 / Talk: National Gallery of Victoria (NGV)
MELBOURNE, AUSTRALIA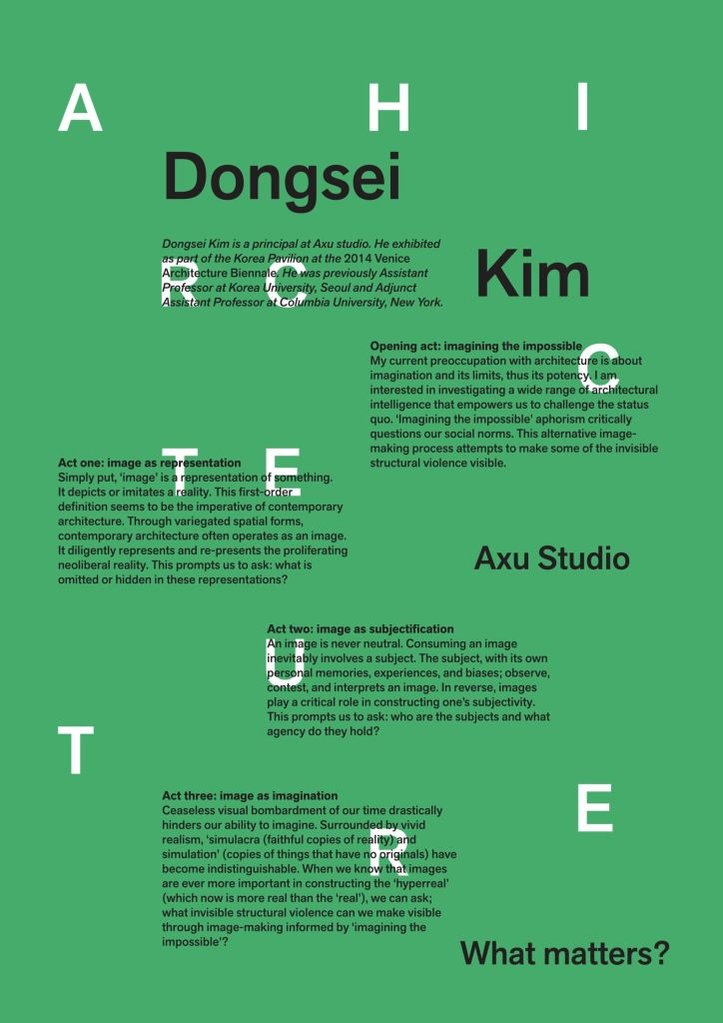 Dongsei Kim was one of the 20 architects invited to participate in the ARCHITECTURE: WHAT MATTERS? presented by SIBLING as part of Melbourne Art Book Fair 2016 at NGV International, Melbourne, Australia.
Event description from NGV
"Architecture roundtables can be stifling. Rather than sit four people around a table on well-rehearsed positions, another tool for debate, the architectural pamphlet, is called upon. This event celebrates the tradition of the pamphlet as a direct, singular, clear platform for architectural provocation. In this twenty-first century update, pamphlets are delivered live, online and in print for the event at the NGV.
For Architecture: What Matters, 20 architects involved in activism, academia and practice will form a circle in Fed Court and have 20-second each to respond to the question: What matters? with time left to debate the provocation. Each response is accompanied by an A4 pamphlet, materialised by Ziga Testen with Monash University graphic design students, which will be dispersed throughout the duration of the fair and available to download online. This event is hosted by Timothy Moore of SIBLING with local and international architects, academics and activists from ARM, Edwards Moore, Fieldwork, Korea University, Lyons, Monash University, Parlour, Parallel For Thinking, REAL, Room 11, RMIT and TOMA among others."

Download Event Pamphlet
Photo credit: Yisoo Choi.